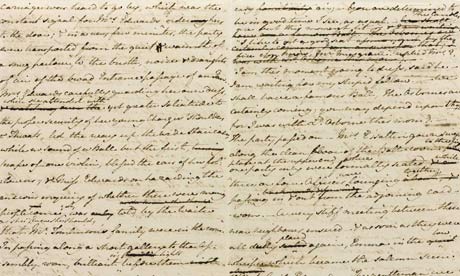 I was browsing Google News a week or two ago and came across an article stating that part of Jane Austen's unfinished manuscript for The Watsons was going up for auction. It ended up being sold a few days later to the Bodleian Library in Oxford for just under £1million (you can read interesting articles about this on
The Guardian website
and on the
Bodleian Library website
).
I know,
just
under 1 million?! It is an awful lot to most of us. There goes the dream of ever owning an Austen manuscript. Well, at least until winning the lottery, becoming the CEO/MD of a major company or marrying somebody very well off comes along, and another manuscript ends up on the market!
But then I found a website where you can electronically view Austen manuscripts for free! I thought I'd share this with you guys incase you weren't aware that such a site existed, and were curious to have a look. You can find it at
http://www.janeausten.ac.uk/index.html
.
Also, Risa at Bread Crumb Reads is hosting a series of group reads and next month's book is Sense And Sensibility. If you're interested in taking part,
check out the details here
. Group reads for the following few months can be found there, too. Looks like it's going to be pretty fun!
Hope you all have had a fantastic weekend! I'll be back later in the week with my review of The Hobbit. In the meantime enjoy the manuscripts, and be sure to
check out my interview
with Natalie over at Independent Reads!